The Dreaded Leather Couch
Looking at my beautiful leather couch, I couldn't help but feel a sense of dread. It had been a while since I last cleaned it, and it started showing. Stains and spills were scattered, and the once-shiny surface looked dull and lifeless. I knew I had to do something about it, but the thought of cleaning it was overwhelming.
To clean a leather couch, first, vacuum the surface to remove dust and debris. Next, mix a gentle cleaning solution using a few drops of mild dish soap and warm water. Finally, dampen a soft cloth with the solution, wring it out, and gently wipe the leather, avoiding soaking the material; then, use a dry cloth to remove any excess moisture.
"I may not have a fancy couch, but it's clean and shining like a diamond, thanks to my cleaning adventures." #leathercouchcleaning #cleaningfun
Comparison of Leather Couch Cleaning Methods
| Cleaning Method | Effectiveness | Safety for Leather | Ease of Use | Cost |
| --- | --- | --- | --- | --- |
| Vacuuming | Low | High | Easy | Low |
| Mild Soap and Water | Moderate | Moderate | Easy | Low |
| Leather Cleaner | High | High | Easy | Moderate |
| Steam Cleaning | Low | Low | Difficult | High |
| Vinegar and Water | Moderate | Moderate | Easy | Low |
| Rubbing Alcohol | Low | Low | Easy | Low |
| Professional Cleaning | High | High | N/A | High |
Materials Needed (And Why You Can't Skip Any of Them)
Here's what I used and why:
Leather cleaner: This is the main product for cleaning and conditioning leather. You can't skip this step, or you'll end up with a couch that looks like it's been through a sandstorm.
Microfiber cloths are perfect for cleaning leather as they don't scratch the surface. Plus, they're reusable, so you're saving the planet and your wallet.
Leather conditioner: Once your couch is clean, you must condition it to prevent it from drying out and cracking. Think of it like moisturizing your skin, but for your furniture.
Vacuum: You must remove all the dust and debris before cleaning. Otherwise, you'll rub dirt into the leather, creating a bigger mess.
Bucket of warm water: This is just for wetting your cloth. Don't use hot water as it can damage the leather.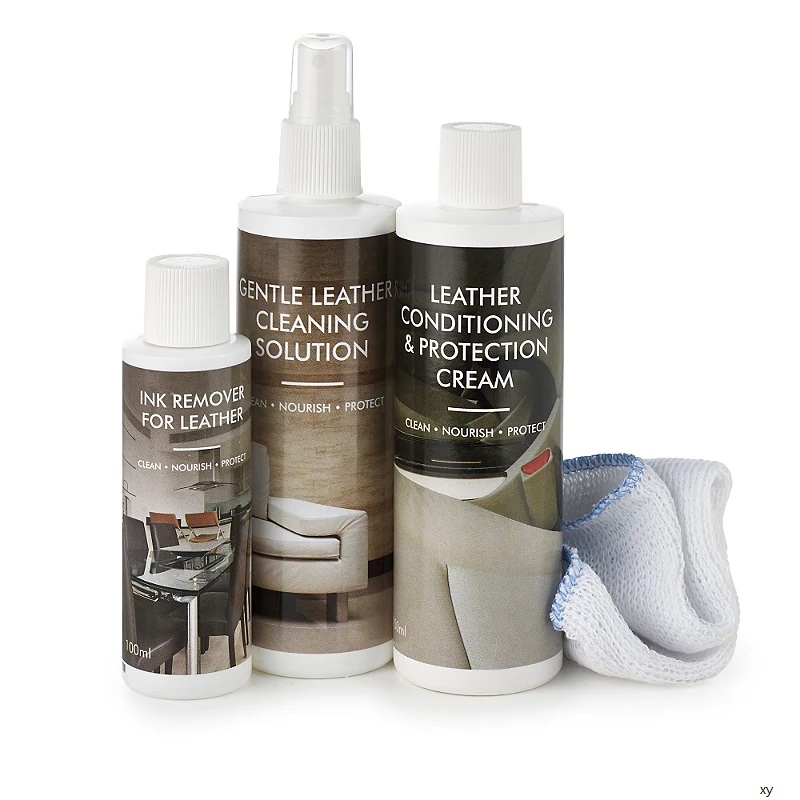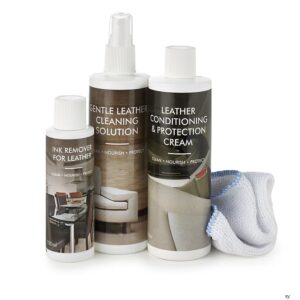 Clearing the Way for a Clean Couch
How to Prep Your Couch for Cleaning (And Avoid Any Catastrophes)
Before you start cleaning your leather couch, you need to prep it. Here's how I did it – with a few hilarious moments along the way:
A. Clearing the Couch
Remove any loose items: Before you can start cleaning, you need to clear the couch of any open items. I thought I had everything off the couch but found a sock my dog had stolen from the laundry. Silly dog!
B. Dusting the Couch
Use a dry cloth: Next, you need to dust the couch. I grabbed a dry microfiber cloth and started wiping it away. But then, I sneezed and accidentally dropped the material into my glass of water. Oops.
C. Vacuuming the Couch
Use a brush attachment: To get rid of any dirt and debris; you need to vacuum the couch. I attached the brush attachment to my vacuum and started cleaning. But then, my cat decided to attack the brush, and I swept her instead of the couch. Silly cat!
A Clean Couch is a Happy Couch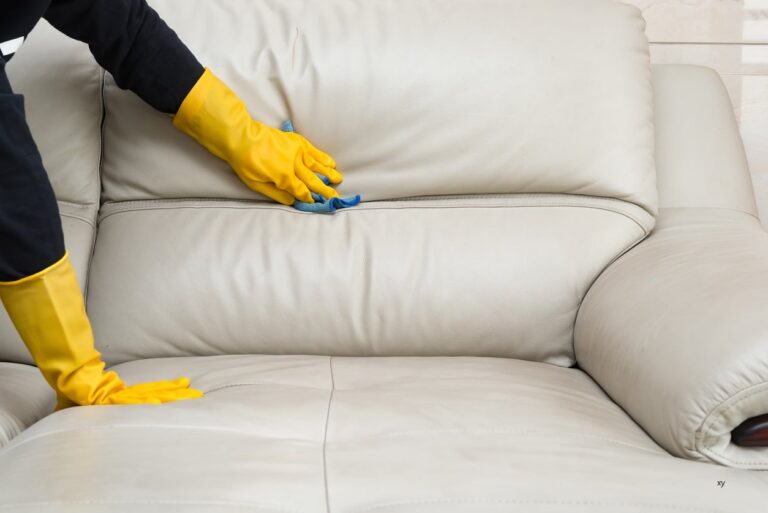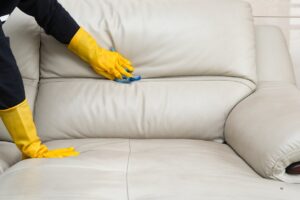 How to Clean Your Leather Couch (Without Making a Mess)
Now that my leather couch was ready, it was time to clean it. Here's how I did it – with a few hilarious moments along the way:
A. Choosing the Right Cleaning Solution
Please read the labels: Not all leather is created equal, so reading the labels on your cleaning products is important. For example, I chose a safe cleaner for my specific type of leather. But then, I accidentally grabbed my husband's aftershave instead of the cleaner. Oops.
B. Applying the Cleaning Solution
Spray the cleaner onto a cloth: I sprayed it onto a microfiber cloth to apply the cleanser. But then, I accidentally sprayed my dog instead of the fabric—poor thing.
Rub the cloth onto the couch: Once you have the cleaner on the fabric, start rubbing it onto it. Make sure to get into all the nooks and crannies. I was doing great until I got distracted by a squirrel outside and rubbed the cloth on the wall instead of the couch—silly me.
C. Cleaning the Couch in Sections
Work in sections: To make sure you don't miss any spots, it's best to clean the couch in areas. I started with the back of the sofa and worked my way forward. But then, my cat decided to nap in my cleaning area, so I had to wait until she moved. Silly cat.
Don't forget the cushions: Once the main part of the couch was clean, I removed the cushions and cleaned those as well. But then, I accidentally dropped one of the cushions, which landed on my dog's head—poor thing.
From Dull to Fabulous: Drying and Conditioning My Leather Couch
How to Dry and Condition Your Leather Couch (Without Any Hiccups)
After cleaning my leather couch, it was time to dry and condition it. Here's how I did it – without any hilarious mishaps (for once!):
A. Drying the Couch
Let it air dry: To dry the couch, let it air dry. Please don't use a hair dryer or any other heat source, as it can damage the leather. I left my couch to dry overnight, and it was ready to go in the morning.
B. Applying a Conditioner
Use a clean cloth: Use a fresh microfiber cloth to apply the conditioner. But first, make sure it's clean and dry.
Apply the conditioner: Squeeze a small amount onto the cloth and apply it to the couch. Make sure to get into all the nooks and crannies.
Let it soak in: Leave the conditioner on the couch for the recommended time (according to the label on your product). I left mine on for about 10 minutes.
C. Buffing the Couch
Use a clean cloth: Once the conditioner has soaked in, buff the couch with a fresh microfiber cloth. This will remove any excess conditioner and give it a nice shine.
Buff in a circular motion: Start at one end of the couch and work your way around in a circular motion. Make sure to buff all the areas that you conditioned.
And that's it! Drying and conditioning your leather couch is easy and makes a huge difference in how it looks and feels. So go ahead, and give your sofa the TLC it deserves.
Keep Your Couch Looking Fabulous: Additional Tips for Leather Care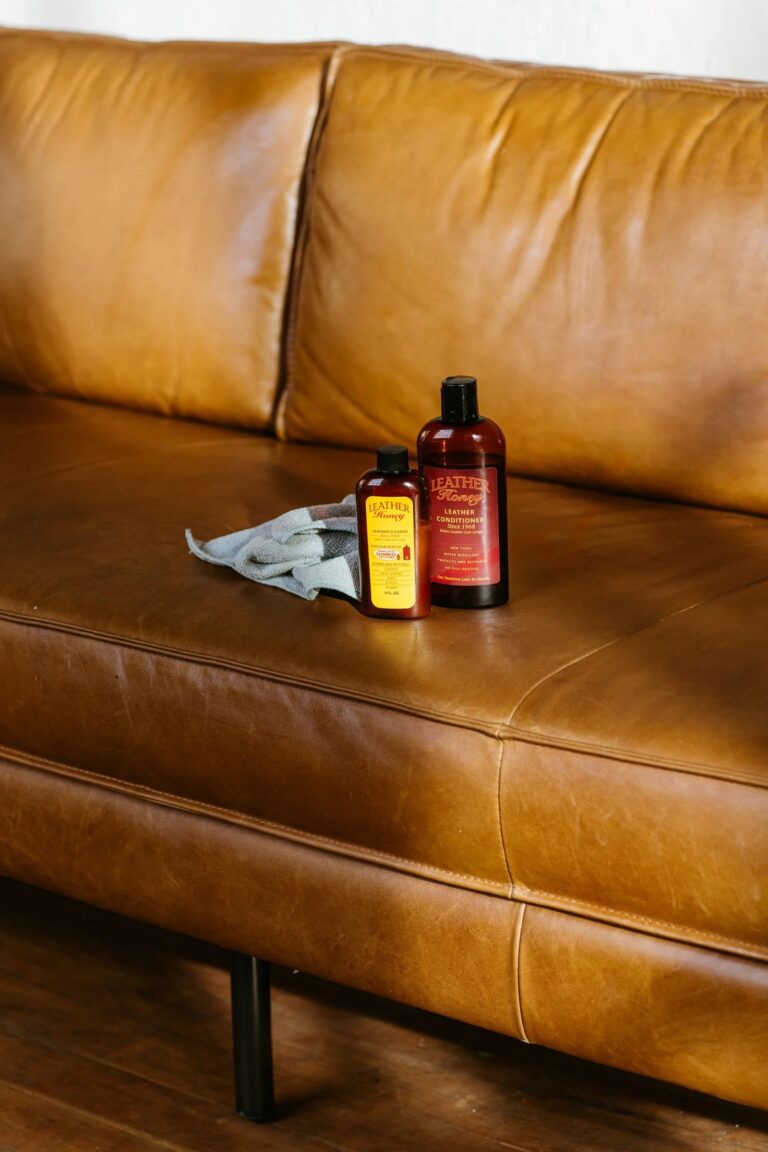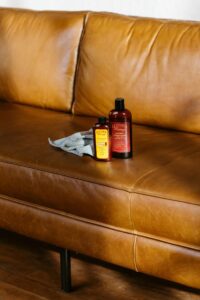 How to Avoid Common Mistakes and Keep Your Leather Couch Looking Great
To keep your leather couch in top shape, here are some additional tips and tricks that I've learned:
A. Avoiding Certain Cleaning Products
Don't use harsh chemicals: Harsh chemicals can damage your leather, so avoid any products that contain bleach, ammonia, or other harsh chemicals. I learned this the hard way when I accidentally used a bathroom cleaner on my couch. Oops.
Please test a small area first: Before using any new cleaning product on your couch, try it on a small, inconspicuous area first. This will help you avoid any potential disasters.
B. Dealing with Tough Stains
Blot, don't rub: If you get a stain on your couch, don't panic! Instead, stain with a clean cloth. Don't rub, as this can damage the leather.
Use a specialized stain remover: If the stain doesn't come out with blotting, try using a specialized leather stain remover. Just make sure to test it on a small area first.
C. Maintaining the Couch
Keep it out of direct sunlight: Direct sunlight can cause your leather to fade and dry out, so keep your couch out of direct sunlight if possible. My couch is now in a prime spot in my living room that avoids the sun.
Use a leather protector: To help prevent future stains and damage, use a leather protector. I use a protector spray on my couch every few months to keep it looking great.
Please keep it clean: The best way to keep your leather couch looking great is to keep it clean. Regularly dust, vacuum, and clean it to keep it in shape. I do this at least once a month to keep my couch looking fabulous.
Following these tips can avoid common mistakes and keep your leather couch looking amazing for years. Trust me; your couch will thank you!
Your Leather Couch Deserves Some Love: Keep It Clean and Fabulous
Clean Couch, Happy Couch: Why Regular Cleaning Is Key
In conclusion, here's a quick recap of the cleaning process and why it's important to clean your leather couch regularly:
A. Recap of the Cleaning Process:
Clear and dust the couch of any loose items
Vacuum the couch thoroughly
Apply a leather cleaner to the sofa in sections
Let the couch air dry completely
Apply a leather conditioner to the couch
Buff the sofa with a clean cloth to a shine
B. Importance of Regularly Cleaning Your Leather Couch:
Regular cleaning helps prevent damage and wear and tear
It keeps your couch looking new and fabulous
Regular cleaning saves you money in the long run by extending the life of your couch
C. Final Thoughts and Advice:
Always use the right cleaning products for your specific type of leather
Avoid harsh chemicals and test new cleaning products in a small area first
Keep your leather couch out of direct sunlight to prevent drying and fading
Regular cleaning is key to keeping your leather couch looking fabulous for years to come
Call to Action:
Give your leather couch some love and keep it clean with our easy cleaning and conditioning tips. Check out our blog for more information!
Statistics:
According to a survey by the American Leather Chemists Association, regular cleaning and conditioning can extend the life of leather furniture by up to 50%.