Remove Pet Stains, Pet Urine, Pet Hair, and Pet Odour from Carpet
Have you ever come home after a long day of work to find your house covered in pet urine and fur? Ugh, it's horrible! And the smell is unbearable. There are some easy ways to get rid of this problem and keep it away for good. Read on to learn more about how you can remove pet stains from your carpet and keep them gone forever.
Pet Poo Removal Method 1: Bio-Enzymatic Oxygenated Cleaner


Scooping the mess with a paper towel will make it worse and spread out the mess on the carpet. Therefore, use a putty knife at the base of the stool. Push the mass forward to the dustpan.
For solid stools, spray it with a Bio-Enzymatic Oxygenated Cleaner. Let the cleaner work for 45 minutes to separate the stain from the carpet fibres. After it dried up, vacuum up the powder. 
Pet Poo Removal

Method 2: Dishwashing Liquid
Pick up as soon as possible, as much as possible. So the waste will not set in and cause damage to the carpet.
Scrape Excess poo from carpet fibbers: Use wet paper towel t pinch carpet fibres and pick up as much as possible.
Mix:
2 cups of hot water
1 tablespoon of dishwashing liquid. Make sure its bleach Free.
Pour or spray the solution on the stain. Blot to absorb the liquid with the melted stains. Repeat application and blotting until all stains are removed.
Can use a wet and dry vacuum cleaner for more efficient suction
Can use paper towel or baby wipe to blot the stain, for easy disposal.
Do not rub the affected area as that might spread the stain and make it worse.
Do not oversaturate the solution as that might damage the carpet.
Once all stains cleared. Pour hot water on the area and blot it dry to remove cleaning solutions. Repeat the process 3 times. Can use a wet and dry vacuum cleaner for more efficient suction
Once dried, spread baking soda on the rea and leave it overnight. Vacuum up the baking soda and your carpet is restored.
Other Pet Stains
Steam Cleaning
Steam cleaning is the most effective stain removal method. The heat will break the bond between the stain and the carpet.
Use small Putty Knife for food mess
Dig the edge of the putty knife between the carpet surface and the base of the mess. Then scrape and push the food scrap into the dustpan.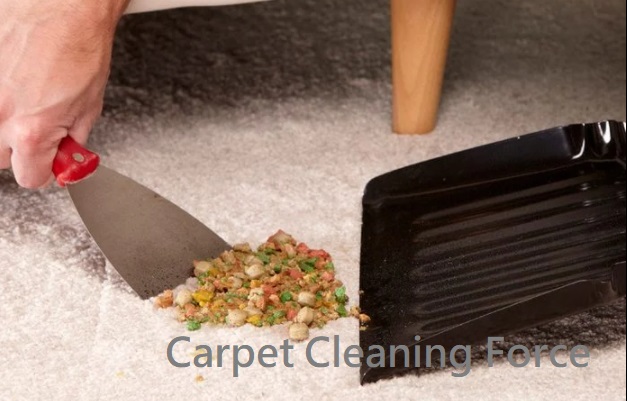 Oxygenated Bio-Enzymatic Cleaners
For all common stains, spray the stains with an oxygen-based bio-enzymatic cleaner. Allow the cleaner to work for 5 minutes to break stains from carpet fibres. Clean up those stains with a wet and dry vacuum cleaner.
Most of the pet stains are removable. Permanent stains can be fixed by a carpet repairer to cut out and patch up with a spare piece.
Muddy Paw Tracks
1.      Mix dishwashing liquid and vinegar as a cleaning solution.
2.      Brush the paw soil marks with this solution.
3.      Use a dry cloth and cold water to rinse the solution.
4.      Repeat the process if necessary.
5.      After the stain is removed, use a towel to blot away moisture and let it air dry.
Clean your pet's paws before they enter the house. A towel at the door entrance will help to keep mud and debris from staining your carpets.
Pet Urine Removal Method 1: Handheld Extractors and Enzyme Cleaner
Treat urine asap to minimise damage.
Handheld extractors
The handheld extractors can sup up liquids from carpet better than towels. After liquids are sucked up, use bio-enzymatic urine cleaner to neutralise the urine acid and eliminate proteins. Handheld carpet cleaners can help to avoid permanent stains by removing urine early and completely. It works better than rags or paper towels.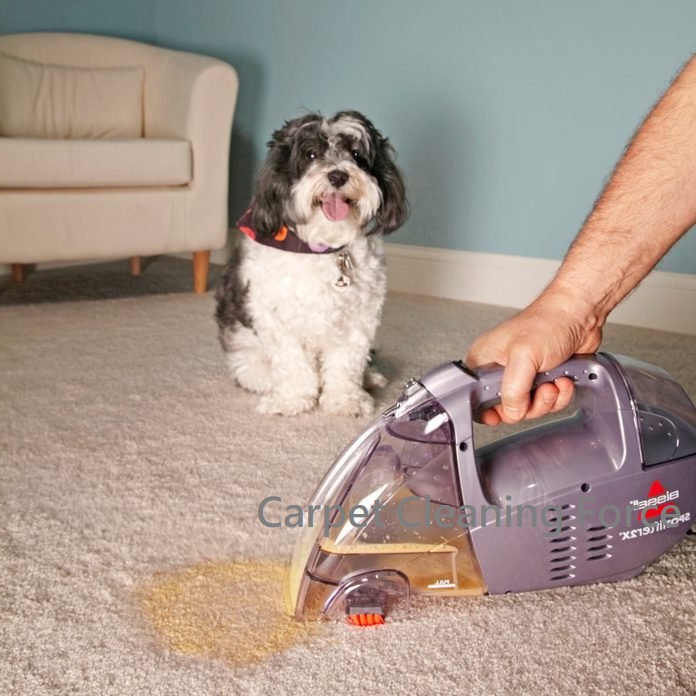 Don't press down with Paper Towels
Stomping on paper towels might look like soaking up urine on the surface, most of the urine is still in the carpet. Stomping on it will push the liquid deeper into the underlay. Use a wet and dry vacuum cleaner as soon as the accident happens before the liquid seeps deeper into the carpet fibres. Making it harder to clean.
Use Enzyme Cleaner
After cleaning up, urines, use urine treatment enzyme cleaner. It will neutralise urine acid and remove starches and protein. The usual carpet cleaning solution is not meant for urine treatments.
Apply Enzyme Cleaner before steam carpet cleaning in Auckland. So you will not have a permeant urine stain.
Pet Urine Removal Method 2: Vinegar, Baking Soda, Hydrogen Peroxide
The longer the pet urine stay on a carpet, the harder it is to remove the smell and stain.  If the smell persists, you may have to replace the carpet and underlay.
Steps to remove pet urine from carpet:
Step 1; Dry the Urinated Area ASAP
Use a paper towel to dab the moisture as much as possible without pressing down the liquid further. Better if you have a wet/dry vacuumed cleaner.
Step 2: Vinegar
Mix vinegar and water 1:1. Pour the solution on the area to dilute the urine then dab it dry. Better if you use wet/dry vacuumed cleaner. Repeat the process 2 more times.
Step 4: Baking soda
Pour baking soda on the area to deodorise for 24 hours.
Step 5: Hydrogen Peroxide
Mix hydrogen peroxide and water 1:1 with a small amount of dishwashing liquid and pour it on the baking soda and scrub the area gently without damaging the fibre.
Step 6: Vacuum
Vacuum the area to remove the baking soda.
Pet Hair Removal
Pet hair can entangle easily on carpets. Shredding pets can add so many hairs that can clog vacuum cleaners.
Use Carpet Rakes or Rubber Bristle Brooms to collect pet hair.
A vacuum cleaner with a powerhead to brush up pet hair at least two times a week during shedding seasons.
Use a window squeegee to scrape the carpet where the pet hair is usually trapped. Once those pet hairs start to get loose, you can now begin vacuuming them up.
Fabric Softener
Mix solution in a spray bottle. Fabric softener and water, 1:3 ration.
Spray the solution to the carpet surface and let it dry in about an hour.
After the pet hair is softened, the pet hair can be vacuumed up easily
Balloon
Blow up some balloons and rub it on the carpet surface.
The balloons will create static and attract pet hairs and pull them out of carpet/
Rubber Glove
Wear rubber gloves and make them damp and wipe across the carpet surface. The pet hair will stick to the glove.
Pet hair can entangle easily on carpets. Shredding pets can add so many hairs that can clog vacuum cleaners.
DIY big Lint Roller


Wrap duct tape around the paint roller with the sticky side facing outwards.
Continue warp the duct tape until it covers the whole roller.
Use the same tape to secure it on both sides.
Use it as a giant lint roller to remove pet hair.
Pet Odour Removal
Start with carpet cleaning tips of urine and stools as mentioned earlier. This is can remove odour from the source.
Buy specific professional carpet stains and odours treatments for the stains you are dealing with instead of general stain treatment.
Cheap cleaning products may claim can remove the odours. However, the smell will return in humid conditions. Because the product does not contain neutralizing agents. 
Plan Ahead With Pet Friendly Carpets
Use pet-friendly carpets made of nylon. They are stain-resistant, durable and affordable. 
If you're looking for a more detailed explanation of how to get rid of pet stains and odors, check out this article. For now, we'll end with one last tip that will help keep your home smelling fresh and clean: vacuum daily! It's an easy way to remove any loose hairs or dust from the carpet fibers before they can accumulate in layers deep within your carpets and rugs over time.